Mountain Hazards Investigation in Rasuwa District of Nepal After the Earthquake by Using Remote Sensing
A few mountain hazards were induced by the Gorkha Earthquake of Nepal 4▪25. In this paper, we investigated the landslide, Dammed Lake and so on along the road which effects the relief by using multiple sources of optical remote sensing images.
We also analyzed the ground object changes before and after the earthquake by using visual interpretation method and investigated the distribution of mountains hazards in Rasuwa district.
The results show that there is less newly formed large landslide. Most of hazards are small and medium landslides, shallow landslide, debris flow, avalanches, rockfall and Dammed Lake.
On the image there are clearly identifiable 15 hazards, in which three harmful, respectively Langtang landslide, Resuo landslides and one Dammed Lake, Langtang landslides caused severe damage.
This research results have been published in the journal Remote Sensing Technology and Application in an article entitled "Mountain Hazards Investigation in Rasuwa District of Nepal After the Earthquake by Using Remote Sensing."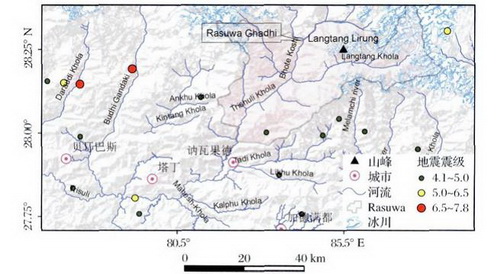 Location of study area