Scientists Analyze the Characteristics of Bacterial Community Diversity in Mt. Qilian Glacier
Updatetime:2019-10-31From:
【Enlarge】【Reduce】
Laohugou Glacier (LHG), located in the western Qilian Mountains, is rich in bacterial and archaeal diversities and provides a potentially natural site for further indepth exploration of microbial diversity and their biotechnological applications.
However, the glaciers in Qilian Mts. are a vast range and broadly remain hidden, and data for microbial diversity and their application for industrial uses are very limited.
Recently, a research group led by Prof. KANG Shichang from Northwest Institute of Eco-Environment and Resources (NIEER) of the Chinese Academy of Sciences collected five different types of samples in LHG no. 12 to isolate a total of 48 bacterial strains by using the R2A bacterial cultural medium.
The study showed that the LHG no. 12 is a biologically super active glacier habitat similar to all other cold habitats around the globe.
The study revealed that bacterial communities were most dominant in soil samples followed by cryoconite sample and least dominant in the ice and snow samples.
Moreover, the obtained bacterial isolates were found resistant to high concentrations of heavy metals and sodium chloride, and, therefore, exhibitede polyextremophilic characteristics.
This study is aimed to improve our understanding about psychrophilic, endolithic, and epilithic bacterial diversity and to further assess the obtained bacterial strains for their possible application in industrial and other biotechnological processes.
The study result was published In Jouranl of Basic Microbiology.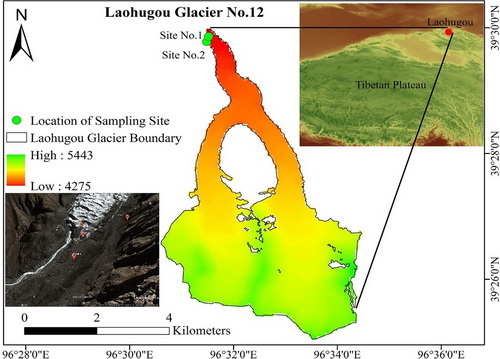 Geographical location of samples collection site, Laohugou glacier no. 12, the red spots show the sampling spots (Image by KANG Shichang)
Contact:
KANG Shichang
shichang.kang@lzb.ac.cn
State Key Laboratory of Cryosphere Science, Northwest Institute of Eco-Environment and Resources, Chinese Academy of Sciences, Lanzhou 730000, China