Scientists Analyze the Components and Sources of Pollutants in Wet Deposition at the Central Himalaya
Updatetime:2019-11-27From:
【Enlarge】【Reduce】
Pollutants from South Asian can be transported and deposited to remote parts of the Himalayas via wet and dry sediments, which pose a serious threat to the mountain ecosystems.
However, no systematic studies have documented the atmospheric deposition fluxes of chemical species over arid and semi-arid mountain regions of Nepal Himalayas.
Recently, a research group from Northwest Institute of Eco-Environment and Resources (NIEER) of the Chinese Academy of Sciences analyzed precipitation samples during 2012-2013 from a data gap region in the high elevation semi-arid mountain valley in the central Himalayas to understand the concentrations, fluxes, seasonal variation and origin of the mercury (Hg), major ions and trace element.
The study result showed that Hg and other inorganic constituents were higher in the non-monsoon season compared to monsoon due to enhanced washout of aerosols.
Enrichment factor (EF), sea salt fraction, crustal and anthropogenic fractions, principal component analysis (PCA) and correlation coefficient analysis suggested that crustal dust and anthropogenic activities as the major sources of measured chemical species whereas the influence of sea-salt was minimal.
In addition, local anthropogenic emissions were low suggesting that the majority of the pollutants could have been transported from the South Asian region to the high elevation mountains.
Meanwhile, low precipitation and dry environment could have enhanced the concentrations of inorganic species in the arid region than other sites over the central Himalayas.
This study provides the first baseline dataset on the wet deposition of inorganic constituents (major ions, trace elements, and Hg) in the fragile semi-arid Himalayan region, which is of great importance to understand the atmospheric environment and to design the future air pollution mitigation strategies and policies for the region.
The study result was published In Atmospheric Research.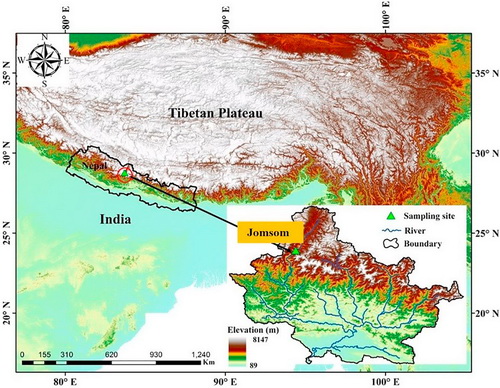 Precipitation sampling location in the high altitude arid mountain valley (Image by GUO Junming)
Contact:
GUO Junming
Junming.guo@lzb.ac.cn
State Key Laboratory of Cryospheric Science, Northwest Institute of Eco-Environment and Resources, Chinese Academy of Sciences, Lanzhou 730000, China.